More info
Alpha Delta ASC-4B-PL
4-way Coaxial Switch Console - 1500 Watt CW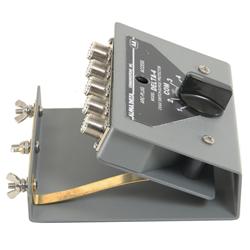 The Alpha Delta ASC-4B is a precision four position antenna switches employing the latest high-tech design.
Cast aluminum constant impedance cavities maintain a constant 50 ohm impedance.
These switches are rated at 2000 Watts PEP.
Silver-plated phosphor bronze micro strip construction ensures loss of less than 0.1 dB at 30 MHz with greater than 60 dB of isolation (0.5 dB loss and 50 dB isolation at 450 MHz).
These switch consoles will sit right next to your equipment on your desk without having to be secured or bolted down.
The switches are positioned in the housing at a 20 degree angle from the horizontal that provide an effective viewing angle and minimize or prevent the cables and hand pressure from moving the console.