More info
Alpha Delta ASC-4B / N
1500 Watt CW Coaxial 4-Way Switching Console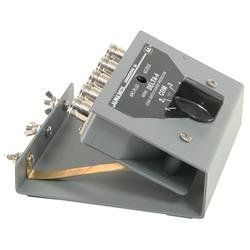 DELTA-2B, 4B and ASC-4B coaxial switches protected against overvoltage in a comfortable table console. They are designed for low losses with excellent co-chanel rejection through 1.3 ASCGHz, depending on the connector model.

They are built with powder-coated housings and are designed with cavity construction with constant micro-strip impedance for the best performance. They have a precision internal rotation mechanism with positive stop action for the exact indication of the switch position.

Switches use an ARC-PLUG gas tube module that is accessible through the front panel for easy access in case of replacement. 2 and 4 position models are available.