Included in shipment :

DR-2XE Repeater in 19" rack mount case

DC Cable

SCU-20 PC-ACC Cable (USB)

User Manuals PDF
DR-2X Features
• Modulation Modes: Conventional FM, C4FM Digital
• AMS (Automatic Mode Select) function automatically recognizes the received signal as C4FM digital or conventional FM signal
• 3.5-inch Full Color Touch panel Operation
• Extremely reliable, high RF Output Power: 50 W/20 W/5 W
• Emergency Operation: Supported by auto-switched backup battery power operation (US and Asian versions)
• Front panel microphone connector is provided for repeater transmitter testing and enables base station operation
• Advanced Operation: The rear panel Control I/O port permits connecting with the "S-COM 7330" repeater controller (Control up to three (3) DR-2X units)

DR-2X Exclusive Features:
• Dual Receive Operation
• Improved "News Station" Feature permits sharing the voice and text messages to members
• Group Monitor Feature supports easy Groupings Set-up
• Stable High Power Output with Large Heat sink
• Commercial grade components for long-term reliable operation
• IMRS (Internet-linked Multi-site Repeater System) function for simple expanded area coverage via the Internet (Option)

C4FM provides Excellent Audio Quality and Reliable Communication
C4FM modulation has better BER (Bit Error Rate) characteristics when compared to other Digital modulation systems, and guarantees reliable Communication. The YAESU C4FM digital clear voice technology uses a 12.5 kHz bandwidth which permits high quality voice communication.

FM friendly Digital with AMS (Automatic Mode Select)
System Fusion enables interconnection between all users with different modes, This is made possible in System Fusion by AMS, The AMS function automatically recognizes the signal as a C4FM digital or a conventional FM signal, then the DR-2X retransmits the signal in the preset communication mode.
Two AMS modes: Forced FM output, or output is FM/C4FM depending on input

Dual Receive Feature provides Flexible Operation
The unique simultaneous Dual Receive Repeater DR-2X allows the control operator to assign an additional frequency for controlling the repeater, transmitting emergency messages, or simply a second up-link frequency, The control operator may also assign separate Downlink frequencies according to the Up-link frequencies.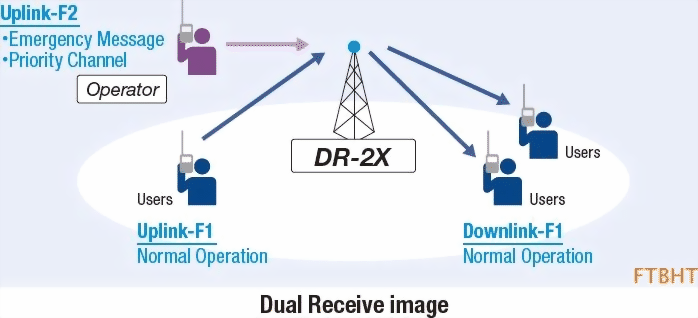 Group Monitor Feature
Yaesu's revolutionary Group Monitor feature allows tracking multiple resources quickly and efficiently by displaying the telemetry and signal strength information of the members that share the same Digital Group Identification number.

Improved "News Station" Feature
Groups or individuals can quickly store and retrieve digital audio and text messages. The users can then access the messages on demand, any time of the day.

User Friendly Set-up (3.5-inch Full Color Touch Panel Display)


IMRS (Internet-linked Multi-site Repeater System) for Wide Coverage Operation (Option)
The IMRS (Internet-linked Multi-site Repeater System) allows the repeater operator to link multiple repeaters over a Wide-Area-Network (WAN) or a Local-area-network (LAN). Because of the reliability shortcomings inherent with WAN (Wide Area Network) connections, such as the internet, the DR-2X incorporates direct connectivity between repeaters, permitting a variety of networking environments, and providing high quality Digital and Analog communications, even when "All Else Fails".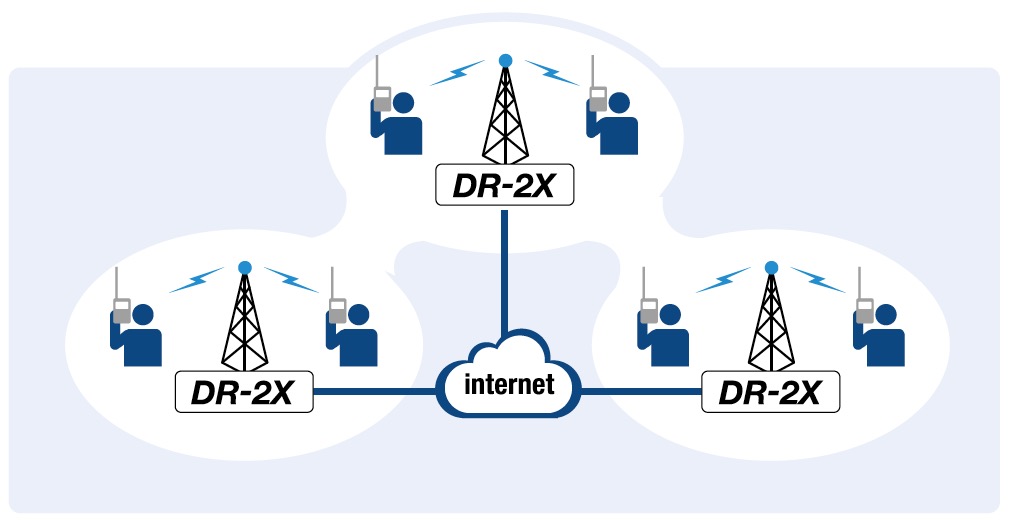 Advanced Operation
The rear panel Control I/O port is connectable to the "S-COM 7330" repeater controller, This controller can manage up to three (3) DR-2X units, providing control of the programmable beep, the timer, access mode, and other features.

Other Features
• 19" Rack Mount Capable
• High Stability ±2,5ppm TCXO
• DSQ (Digital Squelch Code) Signaling
• CTCSS and DCS Signaling
• ID announcement (Voice Mode: Requires FVS-2)
• Base Station Operation
• TOT (Time Out Timer)
• Firmware Updates