More info
A few of the remarkable features of the new FT-710 AESS are:

- YAESU Unmatched SDR technology emphasizes the Receiving Performance.
- Band Pass Filters dedicated for the amateur bands to eliminate out-of-band unwanted signals.
- RF Front-End design with the 250MHz HRDDS (High Resolution Direct Digital Synthesizer) enables phenomenal. - Multi-Signal Receiving Characteristics
- QRM rejection by the dual core 32-bit high speed floating decimal point DSP for SHIFT/ WIDTH/ NOTCH/CONTOUR/APF (Audio Peak Filter)/ DNR (Digital Noise Reduction)/ NB (Noise Blanker) and 3-Stage Parametric Equalizer.
- High Resolution 4.3-inch TFT Color Touch Panel Display
- 3DSS (3-Dimensional Spectrum Stream)
- VMI LED (VFO Mode Indicator) placed around the VFO dial shows the current operating mode (VFO-A, VFOB, Memory Mode and Clarifier/Split Operation).
- "PRESET" Mode Function most suitable for FT8 Operation.

- AESS: Acoustic Enhanced Speaker System with SP-40 creates the high-fidelity audio output.
- External Display Connection Terminal (DVI-D).
- Built-in High Speed Automatic Antenna Tuner with 100 channel memory.
- Support the FC-40 Auto Antenna Tuner.
- SD Memory Card can be used to save the communication record, transceiver setting, the memory contents, screen capture images, and to update the firmware.

- Two (2) USB Ports (Type-A and Type-B)
- Other essential features such as CW ZIN and SPOT, IPO (Intercept Point Optimization), and Remote Operation with Network Remote Control System to name a few.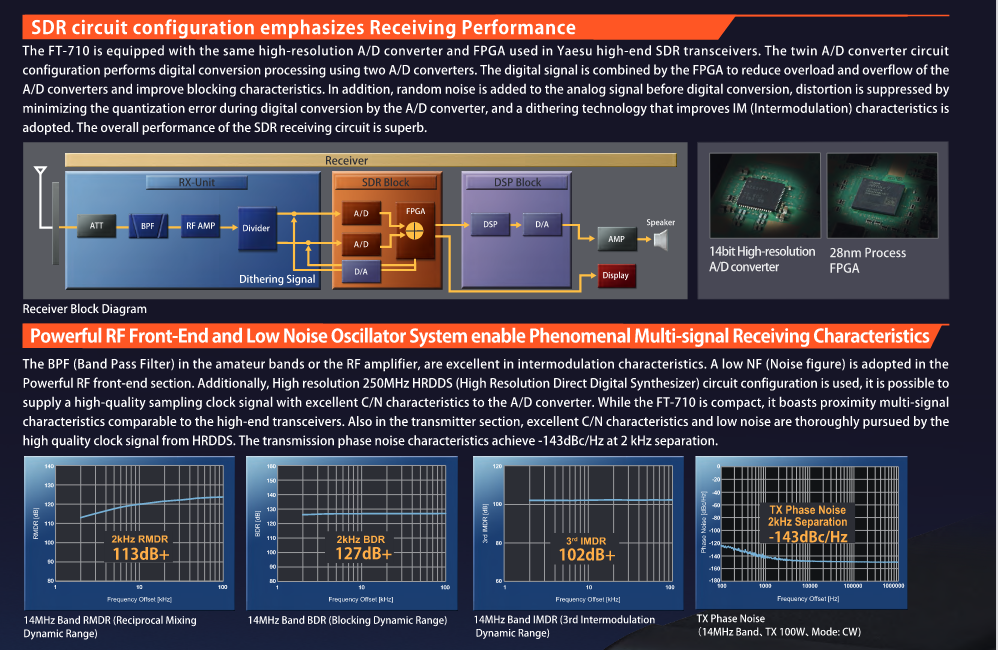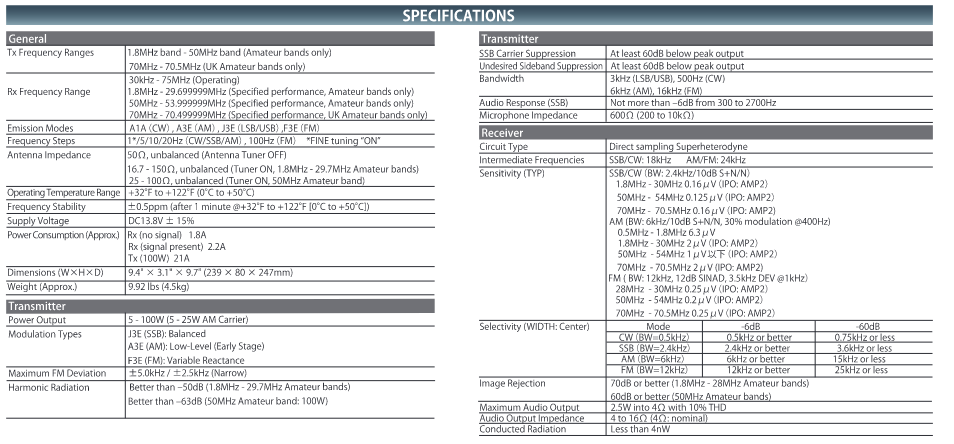 *As of July 2022, the information shown is preliminary and may be subject to change without notice or obligation.