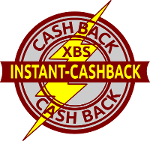 XBS TELECOM offers XBS Instant-cashback :
On your next order, the amount of the "XBS Instant-CashBack" will be automatically deducted from the amount to be paid to us.
The amount is deducted directly when ordering !
XBS TELECOM also offers XBS Giftback :
Receive a free product with the purchase of certain other products !
The offered product is automatically added to your order, with a zero price.
Finally, XBS Telecom helps you claim your Yaesu Cashback from Yaesu UK :
For any purchase of YAESU equipment benefiting from a manufacturer's cashback, go to your account. There you will find the pre-filled Yaesu form, enter your IBAN, verify and press "Send" and voila !