Secure Payments
XBS telecom allows you to pay quite simply and in complete safety by using your "Carte bleue", Bancontact/Mistercash or one of the Credit cards represented below.
Our website is secured by an official SSL certificate (Lets encrypt) of 2048 bits which guarantees the privacy of data exchanged through it, during the order process.
Bank card payments are processed by our partner Stripe (https://stripe.com), whose site is also secured by an official SSL certificate (Digicert RSA) of 2048 bits.
It is in the end our bank Treezor bank that collects your payment on our trade account.
XBS telecom does never know, in any case, at any point your card details.
Finally, all our payments use the 3D Secure protocol to protect you from any fraudulent use of your card on our site.
Depending on the card used, you might be redirected during the payment towards a page of your own bank to authenticate with a mechanism of her own.
It is generally the system with digital code you normally use for your online bank transactions.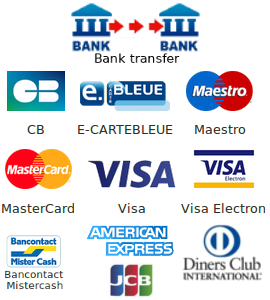 In case of an important order, the amount of which exceeds the limit of your card, you have the possibility to pay via Bank Transfer (longer timing).
Upon reception of the later by our accounting department, your order will automatically be updated and an email will be sent to you in order to confirm the payment's reception.
Bank transfers have to be made to the order of:
XBS Telecom 
IBAN : FR76 1695 8000 0115 7720 4877 646 
BIC : QNTOFRP1XXX